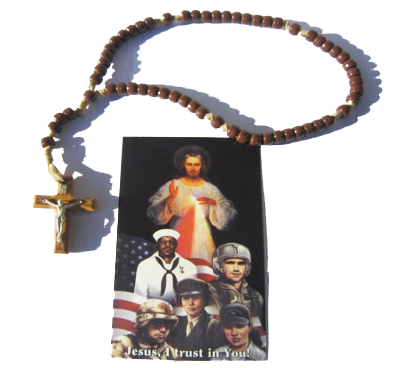 The Holy Land Rosary is made with an olive wood crucifix from the Holy Land, simple black pony beads and military-grade parachute cord. It is a wonderful prayer aid, connecting us with Christ's passion in the Garden and the Holy Land where Christ lived and taught. It also helps fulfill the prophesy in Isaiah 2:4:
You will turn your swords into plowshares, …and your parachute cords into rosary cords.

(The last sentence is my 'living translation': Fr. Bill)

"
 If you are a Military Chaplain, or a Retired member of the Military, you can receive a Complimentary Rosary, if you wish.  Just contact our Representative at the Augustine Institute,  Joseph Alger, at this email address: Joseph Alger or mail requests to:
Donations Appreciated:
And Please Consider becoming a Member of our "200" Club or Corporate Donor. Check under NEWS Tab and CORPORATE DONOR Tab for more Information. Thank You!
---
---
Please Send To:
Holy Land Military Rosary 
6701 Jersey Ridge Rd.
Davenport, IA 52807
OR—You may click on the Donate Button to donate through PayPal Online.
 We are an official 501(c)3 organization now.  All donations are Deductible and deeply appreciated.— Feel free to contact our founder, Fr. William Kneemiller if you have any questions. *Email: kneemillerw@diodav.org